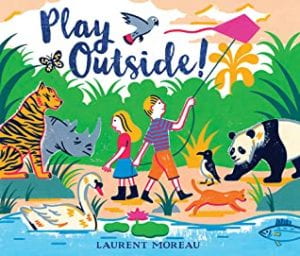 Moreau, Laurent. Play Outside! Norton Young Readers, 2020. 978-1-324-01547-5. Unpaged. $18.95. Grades K-2. 
It's a common refrain uttered by parents on a regular basis – "why don't you go play outside?" Author and illustrator Laurent Moreau puts a creative spin on this refrain in this picture book which was originally published in France in 2018 and appeared on U.S. shelves in a translated edition in 2020. The story features an unnamed brother and sister who are encouraged to play outside by their mother after their horseplay leads to a broken vase. Once outside, the pair travel through a variety of landscapes, including trekking through deserts, climbing mountains, climbing trees in the forest, and sailing on icebergs, among other locales. Each locale features a variety of animals, some common and plentiful, others endangered and facing extinction. At the conclusion of the book, readers can explore an illustrated index showing each animal the children met along their journey and identifying the endangered status of each.
THOUGHTS: Readers will enjoy the challenge using the index to help them try to locate the 250 animal species hidden in Moreau's vibrant artwork. This title could easily be incorporated into lessons involving endangered species and the importance of protecting the environment, themes which are also reinforced within the text of the storyline.
Picture Book          Elizabeth Henry, Lampeter-Strasburg SD