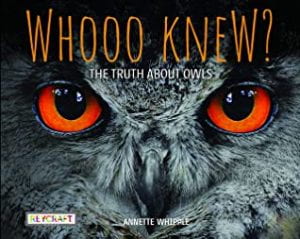 Whipple, Annette. Whooo Knew? The Truth About Owls. Reycraft Books, 2020. 978-1-478-86962-7. 32 p. $17.95. Grades 1-3. 
Children and adults have long been fascinated with owls. Likely many of our students have read a fictional story featuring an owl or heard the hoot of an owl while camping, hiking, or just relaxing in their backyard. In Whooo Knew?, readers have the opportunity to learn more about these amazing creatures. Information about owl characteristics, life cycle, and habitat are introduced by the author posing a question (for example: "Can Owls Spin Their Heads?", "What Good Are Ear Tufts?", and "What Do Owl Babies Do?"). Each question is answered in an informational two page spread featuring numerous photographs. The title also includes a section on what readers can do to help owls, and backmatter includes a glossary, instructions on dissecting an owl pellet, and illustrations of owl anatomy.
THOUGHTS: This engaging non-fiction title is sure to be a hit with students, who will find it useful for research as well as casual reading. The structure of the book, with each topic introduced by catchy questions, will catch the attention of readers and the numerous photos of owl species and close-up views of owl characteristics will allow readers to appreciate these amazing animals. Recommended.
*Note: This book is by a Pennsylvania author.
598.97 Owls          Elizabeth Henry, Lampeter-Strasburg SD