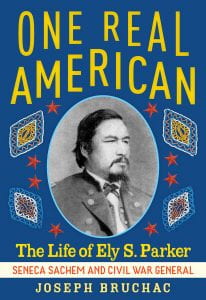 Bruchac, Joseph. One Real American: The Life of Ely S. Parker. Abrams, 2020. 978-1-419-74657-4. 242 p. $18.99. Grades 5-10. 
Abenaki author Joseph Bruchac chronicles the unique life of Ely Parker in this engaging biography. Parker (given the Senaca name Ha-sa-no-an-da at birth) was born on the Tonawanda Seneca Reservation in western New York in 1828. Educated in "English" schools, he became a translator for his tribal leaders in their negotiations with the United States government while still a teenager. Though he wanted to become a lawyer, racist policies of the time kept him from achieving this goal. Instead, Parker became an engineer, working on canals in various states. During the Civil War, Ely received a commission in the Union Army where he served as a general, working on engineering projects as well as administrative tasks. He was soon promoted to General Grant's personal secretary. It was in this capacity that Ely Parker found himself present in the room at Appomattox when Lee surrendered to Grant. The official terms of the surrender were written in Parker's own hand. Following the war, he continued his association with Grant, serving as commissioner of Indian Affairs during Grant's presidency. Bruchac incorporates numerous quotes from Ely's extensive writings within the text and numerous photographs accompany the text.
THOUGHTS: Despite his many accomplishments, Ely Parker is little known today. Hopefully this title helps to rectify this situation. Sure to be a hit with biography fans or Civil War researchers, this title deserves a spot on library shelves. Highly Recommended.
921 Biography          Elizabeth Henry, Lampeter-Strasburg SD