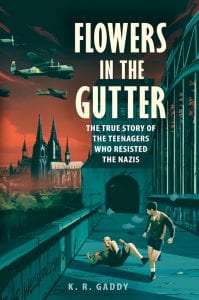 Gaddy, K.R. Flowers in the Gutter: The True Story of the Edelweiss Pirates, Teenagers Who Resisted the Nazis. Dutton, 2020. 978-0-525-55541-4. 301 p. $18.99. Grades 7-12. 
This engaging non-fiction title introduces readers to the Edelweiss Pirates, groups of nonconformist German youth. The Pirates rejected the demands of the Nazis to join Hitler Youth organizations. Instead, they held secret gatherings where they enjoyed activities such as camping, hiking, and singing. They also adopted a distinct style of dress that often included badges or buttons featuring an edelweiss flower motif. Gaddy incorporates many first hand accounts and experiences of Edelweiss Pirates within the text to help bring their stories to life for the reader. When war broke out, the teen members of the Pirates grew daring in their defiance of the Nazis. They painted anti-Nazi graffiti around their towns and distributed anti-Nazi flyers. Some members even carried out sabotage and planned attacks against the Nazis. These actions carried a high risk. Many Edelweiss Pirates found themselves arrested and beaten by the Gestapo, imprisoned, or worse. The text is supplemented by numerous photos and excerpts from official documents. An extensive bibliography is also included.
THOUGHTS: This fascinating exploration of these little known anti-Nazi resistance groups is sure to hold appeal for students. A worthwhile addition to secondary World War II collections, it could also be incorporated into discussions or displays about historical youth activism.
940.53 World War II            Elizabeth Henry, Lampeter-Strasburg SD