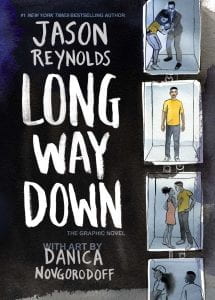 Reynolds, Jason & Novgorodoff, Danica. Long Way Down: The Graphic Novel. Atheneum, 2020. 978-1-534-44495-9. 208 p. $19.99. Grades 10-12.
The seven floors that Will travels becomes even more of a punch in the gut with Novgorodoff's eerie images. The story is the same; Will has to decide if he is going to follow the "rules" and kill the guy who killed his brother. During the sixty seconds it takes him to get to the ground floor, he meets someone who was connected to his brother in some way. Will gains access to more pieces of the puzzle with each encounter that is perfectly depicted with raw edged watercolor paintings. The graphic novel includes traditional panels as well as full page images that draw in readers, even those who know this story well.
THOUGHTS: For any library that is looking to expand their graphic novel collection with novel adaptations or more diversity, this book is a must. If Long Way Down is constantly checked out of your library, this could be a great segue for readers to appreciate the format of graphic novels with a terrifying story. Warning: There are images of guns and gore.
Graphic Novel          Samantha Hull, Ephrata Area SD