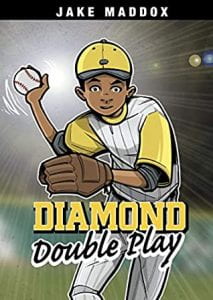 Maddox, Jake. Diamond Double Play. Stone Arch, 2020. 978-1-496-58329-1. 64 p. $5.95 (paperback version). Grades 2-3.
Blake Easton is the neighborhood Wiffle ball star, but he has never played organized baseball. When he and his friends spot a poster advertising open tryouts for a local baseball travel team, Blake's friends encourage him to try out. But Blake is nervous going up against more experienced players, especially when obnoxious Kyle starts taunting Blake as an inexperienced newbie. Luckily, Blake finds a friend in Austin, who shows Blake the ropes. While Blake makes the team, he is disappointed to learn he will be Kyle's backup at second base. But when Kyle injures himself making a selfish play, Blake finds himself in the starting line up, and serious jitters set in. Is he really good enough to be on the team? This short, beginner chapter book combines authentic sports action with lessons on sportsmanship and confidence. The young characters (ages 11-12) frequently speak with maturity far beyond their ages, but the story will resonate with sports fans and players alike. The characters, as represented by the illustrations, are ethnically diverse; Blake is Black, Kyle is White, with teammates represented variously. A glossary at the end of the book defines baseball terms used in the text.
THOUGHTS:  A solid choice for Easy Fiction collections, where sports books are underrepresented.
Action/Adventure          Nancy Nadig, Penn Manor SD