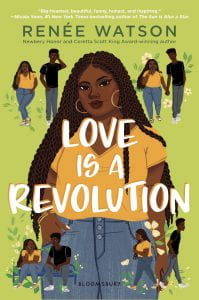 Watson, Renee. Love Is a Revolution. Bloomsbury YA, 2021. 978-1-547-60060-1. 304 p. $18.99. Grades 9 and up. 
Nala agrees to attend an open mic night with her cousin, not really expecting to find love. She meets Tye Brown, an activist and Nala is… not; Tye wants to spend his summer doing community service, and Nala wants to hang out and try new ice cream flavors. Nala makes the decision to tell a couple white lies to Tye, and that ends up spiraling into something she did not expect. Will Nala come clean to the guy of her dreams or keep the lies going? The best part about this novel is the body positivity and Nala's friend group. While this is a YA romance, there is a larger message about being true to yourself and loving yourself for who you are.
THOUGHTS: I adored everything about this book and these characters. I loved the way Renee Watson develops her characters, and her writing style makes this book so easy to read. Highly recommended for any high school collection.
Realistic Fiction          Mary Hyson, Lehigh Valley Regional Charter Academy