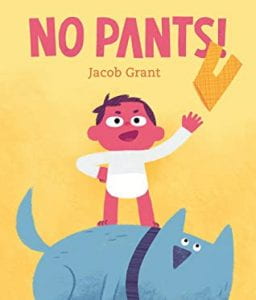 Grant, Jacob. No Pants! Viking, 2021. 978-0-593-11766-8. Unpaged. $17.99. Grades PreK-1.
It's party day for Pablo and his father, but first, he must get ready. Pablo eats breakfast, brushes his teeth, uses the bathroom, and washes his hands; all that's left to do is get dressed, and then Pablo and his father can go to the party, but Pablo does not want to wear pants! His father explains that everyone wears pants, and Pablo needs to wear pants to go to the party. After pushing his father to the edge, Pablo finally puts on pants, but now his father is missing his pants!
THOUGHTS: This is a humorous look at a common disagreement between parents and children: clothes and getting dressed. Readers will connect with either Pablo (not wanting to wear pants) or his father (needing to leave and having an uncooperative child). As Pablo's father tries to get him to put his pants on and explains that everyone wears pants, Pablo pushes him to his breaking point (as many parents will understand). Jacob Grant uses bright paper, pencil, and digital illustrations to bring Pablo to life. This is a fun, universal addition to any picture book collection.
Picture Book        Erin Bechdel, Beaver Area SD