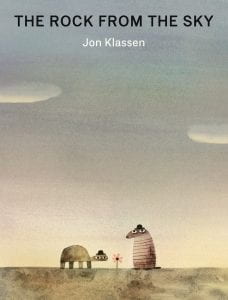 Klassen, Jon. The Rock from the Sky. Candlewick Press, 2021. 978-1-536-21562-5. Unpaged. $18.00. Grades PreK-3.
Told through five chapters ("The Rock," "The Fall,"  "The Future," "The Sunset," and "No More Room"), Jon Klassan's newest picture book, The Rock from the Sky uses humor to explore friendship, pride, jealousy, and the future. Turtle loves standing in his favorite spot. When Armadillo comes to see what Turtle is doing, he feels uneasy about Turtle's favorite spot, so he decides to stand in a different spot. Since his spot is further away, Turtle and Armadillo cannot hear each other, so Turtle moves closer, and just in time. A giant rock falls from the sky right on Turtle's spot. As Turtle explores the rock, he falls, but he is too full of pride to let Armadillo know that he fell or he needs help, so Armadillo takes a nap in the shade of the rock, while Turtle remains stuck on his back. Back on the rock, Armadillo dreams about the future, but Turtle isn't so sure he likes Armadillo's thoughts. At night, Armadillo and Snake watch the sunset under the rock. Turtle comes to see what they are up to, but he is too far away to be heard. As he moves closer to be heard, Turtle blocks the sunset for Armadillo and Snake. Finally, Turtle sees Armadillo and Snake napping under the rock, and with room for only two, Turtle feels left out. As he tries to make Armadillo and Snake feel bad, he gets closer to them so that he can be heard, and just in time because ANOTHER rock falls from the sky on the spot where Turtle had been!
THOUGHTS: Jon Klassan once again uses easy to follow dialogue, dry humor, and simple watercolor illustrations to bring to life a universal story of friendship, pride, jealousy, and dreams through the comedy of falling rocks from the sky. His pictures depict the story of Turtle and Armadillo and both stand alone and support the basic dialogue of these two friends. Readers need to not only read (or hear) the dialogue, but must also follow along with the illustrations to understand the story. I had to view the illustrations multiple times to understand some of the humor (classic Jon Klassen; a book for both kids and adults).  This is a must have where Klassan books are popular.
Picture Book            Erin Bechdel, Beaver Area SD