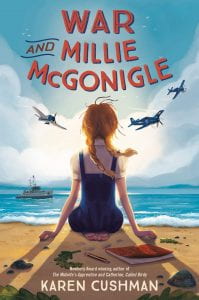 Cushman, Karen. War and Millie McGonigle. Alfred A. Knopf, 2021. 210 p. 978-1-984-85010-2. $16.99.  Grades 4-6.
Mollie McGonigle is a twelve year old girl who lives with her family in San Diego. It is the autumn of 1941 and with war raging in Europe, Millie worries that the conflict will come to California. The young girl is grieving for her grandmother, who died on Millie's birthday. Her grandmother's gift was a diary, and she suggested that Millie "use [it] to remember the good things in this world…things that seem lost or dead-keep them alive and safe in your book." Millie interprets this to mean that she should keep a list of dead things and explores the beach and neighborhood to find or hear about something to write down. When not looking after her younger asthmatic sister and energetic brother or doing chores, Millie finds time to be with her friend Rosie from Chicago, who is temporarily living with relatives. Then, Pearl Harbor is attacked, and Millie becomes even more alarmed about a possible invasion, as do others in the town. With Rosie's help, Millie comes to terms with her anxiety about the world and the loss of her grandmother, realizing that "whatever is lost stays alive when we remember it."
THOUGHTS: This novel explores the effects of grief and anxiety about a world turned upside down. The story is not all doom and gloom, as Cushman has included some comic relief in characters like Aunt Edna and MeToo. Millie is a likeable character and readers who enjoy books about sensitive issues and friendship will like this one.
Historical Fiction          Denise Medwick, Retired, PSLA Member