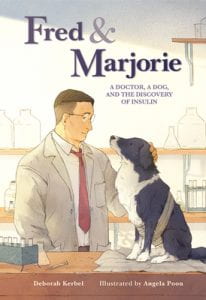 Kerbel, Deborah. Fred & Marjorie: A Doctor, a Dog, and the Discovery of Insulin. OwlKids Books, 2021.  56 p. 978-1-771-47411-5. $18.95 Grades 3-6.
Fred & Marjorie follows the story of Frederick Banting and his partner Charles Best who conducted research towards finding a cure for childhood diabetes. The doctors decide to use street dogs to test their theories on, and this graphic novel shows the successes and the failures of their scientific journey. The illustrations are well done and add to the story as the reader goes through. There is also an extensive authors note at the end of the book, along with a list of sources the author used for the graphic novel. This book brings up the issues surrounding the use of animals for scientific research, and after the author's note there is a section that discusses animal testing in more detail. This book is a great introduction to a topic that many readers might not be aware of and gives just enough information to make the reader want to learn more.
THOUGHTS: Overall, this would make a great addition to any other nonfiction graphic novels you have in your collection.
Graphic Novel          Mary Hyson, Lehigh Valley Regional Charter School