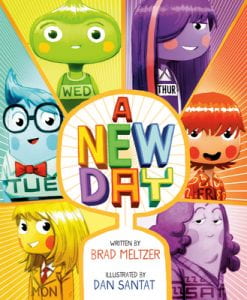 Meltzer, Brad, and Dan Santat. A New Day. Dial Books for Young Readers, 2021. 978-0-525-55424-0. unpaged. $17.99. Grades K-3.
That's it! She quit! Just like that, Sunday decided the weekly grind was too much and she needed to leave the rotation. While she was feeling unappreciated and ready to learn new things, the rest of the crew is left to fill her void, and that means a hiring process. In Brad Meltzer's first fiction foray, we find a hilarious mix of personalities for each day of the week (Monday is so uptight, but Saturday is soooo chill!) as they work together to replace Sunday. Dan Santat offers up his unique humor to complement the text with endless visual gags and side jokes. The tryout process brings up suggestions like FunDay, RunDay, a running gag of DogDay versus Caturday, and many zany no-way kinda days! In the end, a little thanks and appreciation and teamwork really go a long way to making someone's day. The simple fact is that every day can be a new day with a little more kindness.
THOUGHTS: Fans of the movie Inside Out will appreciate the personification of abstract concepts like emotions and days, while those looking for silly extensions like naming your own days have a natural writing prompt here. It is tricky as a read-aloud with the many voices and gags, but worthwhile for some classroom team building.
Picture Book          Dustin Brackbill, State College Area SD