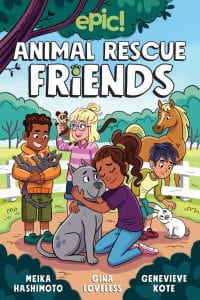 Hashimoto, Meika & Gina Loveless. Animal Rescue Friends. Andrews McMeel Publishing. 2021. 978-1-5248-6806-2. $9.99. Gr. 2-4.
What do you do when you find a stray dog that is friendly, smart, but has no collar? While keeping the dog may be what you want, is it the best choice to make? Maddie makes this discovery when she finds a lost dog she calls Boyd. While she wants to keep Boyd, her mother has her take Boyd to Animal Rescue Friends, an animal sanctuary. There, Maddie will find a place for Boyd, a new job for her helping animals, and even may make a friend or two!
THOUGHTS: This Epic! Original book follows several kids who all help or rescue animals in some way! This book is for the pet lovers of the world, with relatable situations, all presented in a fun comic-book style format.
Graphic Novel         Rachel Burkhouse, Otto-Eldred SD