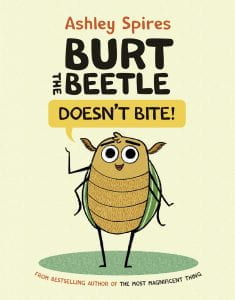 Spires, Ashley. Burt the Beetle Doesn't Bite! Kids Can Press. 2021. 978-1-525-30146-9. $12.99. Grades K-2.
Burt is a Ten-Lined June Beetle, also known as a Watermelon Beetle! Burt has amazing superhero powers. Well, at least that is what Burt believes! He discovered that he can't lift something that is fifty times his weight like ant can, he doesn't have ultrasonic blasts like hawk moths, he does not have a the ability to spray paralyzing venom like some termites can, and he also cannot release a bad smell to repel predators like stink bugs. In fact, Burt can't climb up walls, fly very well, or even run fast! Is there something that makes Burt special?
THOUGHTS: This is a cute graphic novel-style informational book about insects! A cute story for young readers to learn about the super things specific bugs can do, including June bugs!
Graphic Novel          Rachel Burkhouse, Otto-Eldred SD