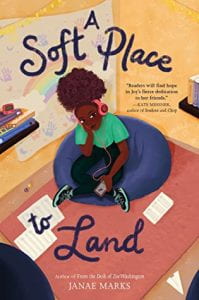 Marks, Janae. A Soft Place to Land. Harper Collins, 2021. 978-0-062-87587-7. $16.99. 288 p. Grades 4-7.
The Taylor family is going through a rough patch. Twelve-year old Joy's father was laid off, they had to sell their beloved house and move to a small apartment, cut out all non-essential expenses like Joy's piano lessons, and change Joy's middle school. Bad enough her dream to be a film composer has to be put on hold and her old friends are not reaching out to her, but her parents are arguing now, and Joy feels she has to keep her feelings hidden to shield her little sister, Malia. The silver lining is the friendliness and kindness of the residents of her apartment building, from next-door neighbor, elderly Mae Willoughby and her French bulldog, Ziggy, to aspiring film-maker Nora, Joy finds a warm welcome and a ready ear that softens the edge of her disappointment and anxiety over losing her house and fearing her parents will get a divorce. Other perks of apartment living are the secret hideout where Joy and her new-found friends can get away to draw, listen to music, read, or play board games, and the dog walking business Joy starts with Nora to earn money to purchase a piano. When Joy's parents tell the girls that her father is moving in with Uncle Spencer for a bit, though, a distraught Joy runs away to the Hideout and falls asleep, leading to the breaking of the one Hideout rule: don't tell the adults. Though the other kids are angry that their Hideout is now off limits, Nora remains a loyal friend until Joy's curiosity about a poignant poem and messages on the Hideout's walls leads to a rift between them. When Nora ditches the dog walking session, Joy finds out too late she cannot handle the task solo and loses Ziggy. Despite her loneliness and sense of failure, Joy works to come up with a way to find Ziggy, mend her friendship with Nora, and remedy the loss of the special Hideout. Janae Marks's new novel abounds with positivity while recognizing life does not go perfectly. Joy and her family are African American; most of the other characters are people of color also.
THOUGHTS: A comforting, relatable middle school read. No high drama here, just an enjoyable story showing people bonding together and helping each other, and middle school students being kind and friendly to newcomers. Although there are some difficult issues at play here, all the adults are experts at problem solving and dealing with hard things respectfully. The children follow suit. Joy and Nora show a lot of responsibility and initiative, and the other characters display other positive traits.
Realistic Fiction          Bernadette Cooke, School District of Philadelphia