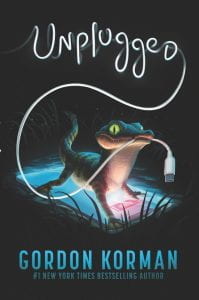 Korman, Gordon. Unplugged. Blazer + Bray, 2021. 978-0-062-79889-3. $16.99. 324 p. Grades 4-6.
Meet Jett Baranov, bratty son of a super rich tech billionaire. Jett can't help but get himself in lots of trouble! His father has had it, and decides to send Jett to a "resort" in the middle of Arkansas called The Oasis. Thinking The Oasis will be like any other upscale camp he's been to, Jett is stunned when he has to turn in ALL his tech devices. Another shock comes when he hits the cafeteria; it's all vegetarian! Finding a pet "lizard" with the other kids at the camp, Jett thinks his experience is finally turning around. They can't figure out what kind of lizard Needles is, but they are in for the shock of their lives when they figure out the mystery of where Needles came from and the truth about the head counselor at the camp.
THOUGHTS: A must purchase for fans of Gordon Korman. His stories have the best hooks, and Unplugged does not disappoint.
Realistic Fiction          Krista Fitzpatrick, PSLA Member