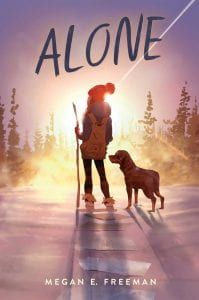 Freeman, Megan E. Alone. Aladdin, 2021. 978-1-534-46756-9. 404 p. $17.99. Grades 5-8.
Maddie, a twelve year old girl, plans the perfect sleepover night at her Grandmas. Unfortunately, her friends cancel, and Maddie spends the night alone – only to wake up to everyone gone. Maddie learns that an "imminent threat" has forced mass evacuations and her divorced parents never knew that Maddie was alone. Maddie must now fend for herself and hope that help comes soon. Maddie visits the empty homes and starts to gather items necessary to survive for the next few weeks. But weeks turn into months, and months into years and Maddie's only company is a rottweiler named George. On her own Maddie faces looters, tornadoes, a devastating fire, and a flash flood while navigating springtime at her mom's house and winters at her father's home. Maddie uses her local library to gain knowledge, and find hope that rescue will soon arrive.
THOUGHTS: A wonderful survival story with a strong female character that will leave you rooting for her. The story is well written, and fans of Life as We Knew It and Hatchet will enjoy this adventure. The author provides a variety of challenges for Maddie to face, while showing how to be brave and creative in overcoming obstacles.
Adventure          Jillian Gasper, Northwestern Lehigh Middle School