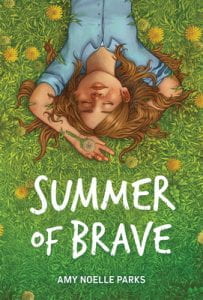 Parks, Amy Noelle. Summer of Brave. Albert Whitman & Co., 2021. 978-0-807-57660-1. 232 p. $16.99. Grades 4-8.
Lilla likes to make everyone happy, even if it means not speaking her mind. The Summer Wish is a tradition between friends Knox, Vivi, and Lilla – whoever blows off the most seeds of the dandelion gets to make a Summer Wish that the other two must do. When Vivi wins (again), she decides to make her wish for a summer of brave, where everyone is honest and shares their feelings in order to overcome a fear. For Lilla this will be a challenge at home since she spends half her time living on the second floor with her mother, a scientist, and the other half on the first floor with her father, an artist. When the trio apply for summer camp counselors, tensions mount when Vivi doesn't get chosen and Lilla can't tell her the truth (which equals not being brave). Add to that the decision on which school to attend in the fall (the private school for science or art? Or the public school for a more well rounded education?), Lilla struggles with finding her voice to tell both her parents and friends her true wish. Will the Summer of Brave truly work?
THOUGHTS: A great coming of age story about being honest with yourself and others while finding out who you are. These middle school students are relatable and each bring a special connection to the story. Lilla struggles with self doubt, and readers at this level will connect with her in more ways than one. A wonderfully written and brave story of finding the courage to speak up for what you believe in.
Realistic Fiction          Jillian Gasper, Northwestern Lehigh SD