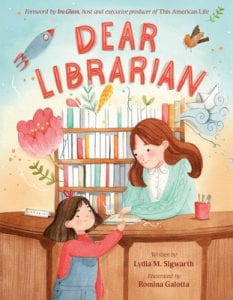 Sigwarth, Lydia M. Dear Librarian. Farrar Straus Giroux. 978-0-374-31390-6. 32 p. $18.99. Grades K-3. 
When Lydia and her large family move from Colorado to Iowa, she misses many things. Most of all, she misses having a home. In Iowa, she doesn't have a home: just houses. Her family spends some days living at an aunt's house, some days living at a cousin's house, and some days living at her grandmother's house. She doesn't feel at home anywhere, until her mother takes her to the library. The library has sunny windows, rows of books, baskets of toys, and best of all, a kind librarian. The librarian takes time to listen closely, locate perfect books, read stories, and give warm hugs. In the library, Lydia finally finds her own special home. Even when her family eventually moves into their own house, Lydia continues returning to the library to see her special friend. Her many visits even inspired her current career as a children's librarian. An introduction by Ira Glass, host and producer of This American Life, details how Lydia Sigwarth's story originally premiered on his radio show. Listeners liked it so much that Lydia decided to write her own version of the story, which is this autobiographical picture book.
THOUGHTS: The book's final pages include an author's note explaining that this story is based on what really happened to the author while she and her family were homeless for six months when she was a little girl. The note also details how in 2018, the author reconnected with her childhood librarian with the help of the radio show This American Life "664 The Room of Requirement Act Three: Growing Shelf-Awareness." This gentle story describes one little girl's experience with homelessness while also celebrating the power libraries have to create safe, welcoming spaces for all people. This title will serve as a memorable discussion-starter during elementary morning meetings.
Picture Book          Anne Bozievich, Southern York County SD