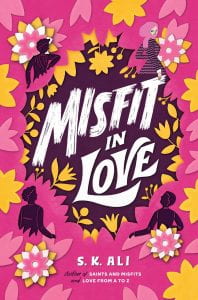 Ali, S.K. Misfit in Love. Salaam Reads / Simon Schuster Books for Young Readers, 2021. 978-1-534-44275-7. 320 p. $19.99. Grades 9-12. 
It's two days before her older brother Muhammad marries Sarah, the love of his life, and Janna is looking forward to the arrival of Nuah, who she finally is ready to tell "yes, I like you back." They're at her father's Mystic Lake, IN estate, though Janna has had her own strained relationship with her dad. Due to Sarah finishing her Master's degree and her family throwing their own official reception next year, wedding plans have been left up to Dad and Muhammad which means Janna has been there helping for weeks. It's been nice to spend time away from home, even with stepmother Linda and the laddoos, Muhammad and Janna's half siblings. Janna is excited to see her mom again, however awkward this huge family event may be, but she didn't count on an attraction to Sarah's gorgeous cousin, her mother's distraction with an old friend, and a brooding sad guy who seems to get Janna. Still, she's determined to reconnect with Nuah who, despite Janna's best efforts, seems distracted himself. As friends and family arrive for the celebration, Janna experiences a whirlwind of emotions.
THOUGHTS: With appearances by beloved characters from other Ali books, this is a must have addition to high school romance collections.
Romance          Maryalice Bond, South Middleton SD
Rising college freshman Janna has sacrificed a summer internship to help her older brother, Muhammad, prepare for his big, fat Muslim wedding. What started off as a small nikah ceremony has morphed into a blue and gold monstrosity (especially since Sarah, the bride, wants tasteful matte grey and gold). But all of the stress will be worth it to spend time with Nuah, the boy whose friendship got Janna through the aftermath of being assaulted at the mosque last year (Saints and Misfits.) Now Janna is ready to return Nuah's affection. Only nothing goes according to plan. Nuah seems distant, and keeps talking about a girl he met at college. Janna's mom shows up for the wedding with an old "friend" with whom she seems very cozy. Muhammad seems determined to pair up Janna with Sarah's hot cousin, Haytham, and then there's dark, brooding Layth, who keeps storming in and out of the wedding festivities. What is a girl to do? Despite appearances, this book is more than a light-hearted romantic romp. While Janna's divorced parents are both Muslim, her mother is Egyptian and her father Indian-American. When Janna confronts her father about his not-so-subtle attempts to caution her about getting involved with Nuah, who is Black, he defends his position by discussing the stress, potentially contributing to their divorce, on his relationship with Janna's mother because of their culturally different backgrounds. Members of Sarah's Syrian family constantly scorn Muhammad's mixed heritage as not as "good" as being Syrian. The book explores various prejudices and racial tensions within what an outsider might consider a cohesive culture. Janna is angry and appalled at her beloved father's attitudes and prejudices, but the book ends with the family planning to confront their biases and attend an anti-racism seminar. Adam and Zayneb, from Ali's Love from A to Z make a cameo appearance at the wedding. All major characters are Muslim, of various ethnicities.
THOUGHTS: This romance, set in the American Muslin culture, highlights the varied shades of prejudice. Readers unfamiliar with Muslim customs should enjoy the introduction and may find themselves Googling pictures of burkinis to understand Janna's embarrassment early in the book.
Romance          Nancy Nadig, Penn Manor SD