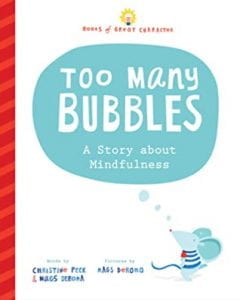 Peck, Christina, and Mags Deroma. Too Many Bubbles: A Story about Mindfulness. Sourcebooks, 2021. 978-1-728-23590-5. 48 p. $12.99. Grades PreK – 1.
Izzy starts with one thought, a grumpy one right above her head after a rough day, following her all day until it was time for bed. When she woke up the next morning, she had another thought bubble, and as the story goes she has more and more until they, literally, push her off the page. Izzy makes her way to her secret spot which has room for all of her bubbles. She takes a deep breath in and gently blows on the bubbles (the book encourages the reader to do the same to help Izzy). The back of the book has more information for the reader regarding mindfulness, as well as some exercises that the reader can practice. The illustrations in this book are very bright and colorful which was a nice contrast to the plot of Izzy feeling overwhelmed by all these thought bubbles.
THOUGHTS: This is a great introduction for mindfulness, as well as a great book to start a conversation with a reader about that topic. This book would be useful in any elementary library collection, or for an elementary guidance counselor or school social worker.
Picture Book          Mary Hyson, Lehigh Valley Regional Charter Academy