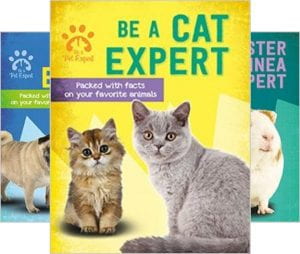 Barder, Gemma. Be a Pet Expert (series of 6). Crabtree, 2021. 32 p. $20.75 each. $124.50 Set of 6. Grades 3-6.
Be a Cat Expert. 978-0-778-78015-1.
Be A Dog Expert. 978-0-778-78016-8.
Be a Hamster & Guinea Pig Expert. 978-0-778-78017-5.
Be a Horse & Pony Expert. 978-0-778-78018-2.
Be a Rabbit Expert. 978-0-778-78019-9.
Be a Reptile Expert. 978-0-778-78020-5.
These books provide helpful information, facts, and pet care tips for a variety of animals. Many photos, text boxes, and checklists help readers to learn more about the animals and consider them as pets. A flowchart guides readers through yes/no questions to determine what type best suits their personalities. Placing hamsters and guinea pigs in the same book will help readers to differentiate the two. Each book surprises readers with some interesting facts even on 'well-known' pets. For instance, no two dogs have the same noseprint; cats cannot taste sweet foods; horses and ponies have the largest eyes of any mammals on land; and rabbits can sleep with their eyes open.
THOUGHTS: These helpful books shed a positive yet truthful light on pets, which will appeal to pet-owners and animal lovers alike.
630s Domesticated Animals, Pets        Melissa Scott, Shenango Area SD