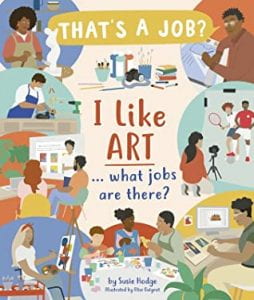 Hodge, Susie. That's a Job? I Like Art…What Jobs Are There? Kane Miller, 2021. 47 p. 978-1-684-64168-0. $15.99. Grades 3-6. 
That's a Job? I Like Art…What Jobs Are There? is a nonfiction book that uses the lens of art to showcase over twenty different jobs that are all related to art. There is a wide range of jobs, from ones that require working with people to jobs that are more solitary. Some of the jobs show a life in the day of the person, and some just give a smaller snapshot of what they do in a day. Each job discusses the best and worst parts of each job. At the end of the book, there is a way for the reader to try to pick out their best job, based on what they like to do/are good at.
THOUGHTS: This is an amazing book to introduce different careers to readers, and I loved how in-depth they went for the behind the scenes of each career. The illustrations show each career as well as the extra hobbies each individual has. Must have for an elementary or upper elementary school.
700 Art Careers          Mary Hyson, Lehigh Valley Regional Charter Academy