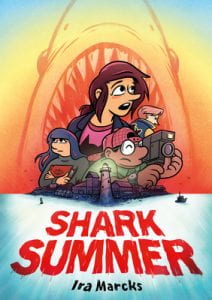 Marcks, Ira. Shark Summer. Little, Brown, and Company, 2021. 978-0-316-46138-2. $24.99. 281 p. Grades 5-8.
Gayle, an ace pitcher for the local softball team and new to Martha's Vineyard, hurts her wrist badly in a game. Her summer plans and hopes shattered, she teams up with a visiting son of a journalist, Elijah, and local girl Madison to make a film about a local legend.  With a big budget film crew on the island filming a blockbuster hit (similar to Jaws), the kids decide to focus their no budget film on the Atwood Terror legend, a story of a fishing-club owner who fed victims to a shark. Will there be some truth to this storied legend that the kids uncover?
THOUGHTS: Fans of Jaws and shark movies will enjoy this graphic novel.
Graphic Novel          Krista Fitzpatrick, Wissahickon Charter School