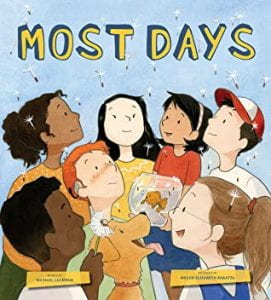 Leannah, Michael. Most Days. Tilbury House, 2021. 978-0-884-48727-2. 32 p. $17.96. Grades K-2. 
Little moments that make up a day are highlighted with a nod to mindfulness. A variety of children share observations while completing ordinary tasks. On his way to breakfast, a boy notices six leaves on a plant where there were five yesterday. Outside, a girl in a wheelchair notices a new spiderweb. Walking through a busy neighborhood offers opportunities to take in many sights and sounds unique to the moment with a focus on positivity and the "good things happen in the ordinary minutes of the day." Some diversity is shown among the children and adults portrayed. Calm, pastel watercolor illustrations set the scene for an engaging read aloud reminding children to find stillness and beauty in everyday moments.
THOUGHTS: A good picture book to use in conjunction with a five senses unit or to introduce mindfulness to students.
Picture Book          Jackie Fulton, Mt. Lebanon SD