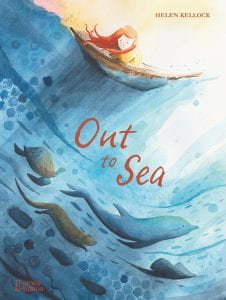 Kellock, Helen. Out to Sea. Thames & Hudson, 2021. Unpaged. 978-0-500-65236-7. Grades 1-3.  $17.95.
Kellock has created a beautiful story about grief and loss. Lara's grandmother has died and she misses her terribly. The young girl thinks about how her grandmother "smelled like strawberries" and how the pair would spend time on the beach. At night, Lara is filled with sadness and begins to cry, as thoughts swirl around in her head, keeping her from sleep. The author ingeniously uses the sea as a metaphor for Lara's grief for the rest of the story. Tears fill the child's bedroom and carry her out to sea in a boat. She leaves behind all the things that used to give her joy and continues to drift on the water, forgetting "everything that made her feel happy or safe," like the smell of strawberries or her grandmother's warm hands. All she feels is the "cold swirling sea." Then, in the deep ocean appears a glowing pearl, which gives her comfort. The young girl realizes that there are things in her life that still make her happy, like the memories of her Nana, and she rows the boat home. Through the imagery of the sea, the author has crafted a story that clearly portrays the sentiments of loss, such as feeling "out to sea," drifting aimlessly and being down in the depths. The progression of Lara's emotions is creatively shown in the author's full bleed illustrations. At first, she floats down a narrow stream along her street, but then the boat continues on past the big city, arrives on the beach and heads into the wide open ocean. Initially, the boat moves under its own power, but Lara picks up the oars to steer it home after she finds the pearl. At the end, the author observes that even with the pearl, Lara still has "other sleepless nights and sad goodbyes," but now understands that she is not alone.
THOUGHTS: This book is a wonderful and fitting story for children experiencing loss.  It is a good one to share with your guidance counselor and is a must-have for elementary collections.
Picture Book          Denise Medwick, Retired, PSLA Member