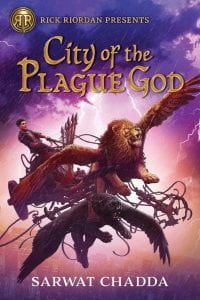 Chadda, Sarwat. City of the Plague God. Disney-Hyperion, 2021. 978-1-368-05150-7. 400 p. $16.99. Grades 3-7. 
Sik, a thirteen-year-old Iraqi-American, lives with his mother and father in New York City, running a family deli specializing in middle-eastern food. He and his parents mourn his older brother, Mo, who was killed while traveling in Iraq. Alone in the deli one night, Sik encounters two scary guys in the back alley, eating rats and talking in rhyming couplets. Then Sik meets their boss, an insect infested, maggot producing 10-foot monster who proceeds to demolish the deli looking for something he says Mo stole from Iraq. If that wasn't weird enough, Sik is saved by a pint-sized ninja, who turns out to be Belet, the new girl in his class at school. And if THAT isn't weird enough, Belet is the daughter of Ishtar, the goddess of love and war. Ishtar explains to Sik that his nighttime visitor was Nergal, the Mesopotamian god of war and plague, and New York City has just become an immortal battle zone. Another entry from the Rick Riordan Presents imprint introduces middle grade readers to really ancient mythology – stories from the Fertile Crescent. The original super hero, Gilgamesh, appears in the story, having renounced his former violent ways. This story is not for the faint of heart. Bugs, blood, and bile dominate in this action-packed adventure. Characters come back from the dead, and Sik must visit the underworld in his pursuit of Mo's mysterious treasure. Learning about Sumaria was never so much fun! Sik is a charming character who cares deeply about his family, and resents his brother for dying, while Belet desperately wants a family like the one Sik treasures.
THOUGHTS: Those students who may have previously eschewed the RRP family of books will be drawn in by the delightful grossness of this story. Readers may not run for a translation of Gilgamesh, but they will undoubtedly be more receptive to learning about Mesopotamia in history class.
Fantasy (Mythology)          Nancy Nadig, Penn Manor SD