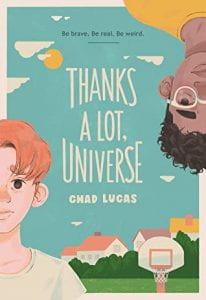 Lucas, Chad. Thanks a Lot, Universe. Amulet, 2021. 978-1-419-75102-8. 279 p. $16.99. Grades 5-8.
Brian and Ezra, both 13 years old, are classmates at school, and on the same basketball team. But that's where the similarities end. Ezra, who is biracial, appears to Brian as cool, confident, and popular, while Brian, who is white, suffers from crippling social anxiety (or Super Awkward Weirdo Syndrome, as he labels it). Ezra thinks Brian seems interesting, but doesn't go out of his way to befriend the boy until the bottom drops out of Brian's life. On his 13th birthday, Brian awakens to discover that his father has disappeared (to evade capture by police) and his mother is unconscious from a drug overdose. In the ensuing days, Brian tries to keep his life together, after he and his younger brother, Ritchie, are placed in foster care. But eventually Brian takes Ritchie and runs away. Ezra soon gets involved in the search for Brian, and after locating the brothers, makes it his mission to befriend the young man. Along the way, Ezra is trying to understand himself as well. His circle of friends is evolving, as some of the boys become interested in girls, while Ezra is coming to terms with the fact that he is gay, and has a crush on Brian. Two well adjusted high school students provide a sounding board for both boys as they attempt to navigate the life they have been given. While racial issues are touched upon, mental health takes center stage. Brian is terrified he will be labeled "crazy" since his mother suffers with mental health issues. While these seventh grade boys are far more comfortable discussing their feelings and expressing concern for each other's emotional well-being than your average middle schooler, the book is a marvelous, feel-good display of masculine friendship. The story, alternating between Ezra's and Brian's point of view, grabs hold from the opening page, and doesn't stop until the end. Brian and Ezra are both such sympathetic characters readers will wholeheartedly root for them to find happiness. And maybe all those really nice people are what make the book so heartwarming.
THOUGHTS: Highly recommended. While there may be too many unrealistically nice people in the story, including a helpful police officer, a teacher who takes in Brian and Richie, and a pair of high school teenagers who befriend Ezra and Brian, it is worth it for the good feelings it engenders. There is no perfect ending – dad goes to prison, Ezra loses a friend, mom is still unstable – but the book still leaves you smiling. With main characters that are 13-years-old and in 7th grade, this book should have wider appeal than just middle grade. The timely issues of race and mental health make this a great fit for 7th and 8th graders. Hopefully readers will take to heart the message to befriend and understand shy kids, and to look out for each other. Perfect to pair with The Boys in the Back Row by Mike Jung.
Realistic Fiction          Nancy Nadig, Penn Manor SD
Brian, who suffers from Super Awkward Weirdo Syndrome (SAWS), as he calls it, is used to having a rough time in junior high; he is a good basketball player, but feels too shy to talk to his teammates off the court. He often deals with bullying, and his dad wants him to be tougher and stand up to those who make him even more socially miserable. Then, life gets much harder when his dad suddenly leaves the family. Suddenly, Brian is taking care of his younger brother, navigating foster care, and still dealing with his social anxiety, bullies, and every-day adolescent stress. Luckily, a support system shows up to help when Ezra, a teammate from basketball, and a group of caring adults step in. Meanwhile, Ezra is dealing with uncomfortable tension between his childhood best friends, his growing interest in music and playing the guitar, and his changing feelings about boys.
THOUGHTS: This is a beautiful story about supportive friends in times of struggle. The characters in the story experience the difficulties of growing up and demonstrate the positive influences that good people and good friends can have during a teen's formative years. This book also portrays several positive coming-out experiences and sensitively handles the struggles of a LGBTQ+ teen.
Realistic Fiction          Erin Faulkner, Cumberland Valley SD