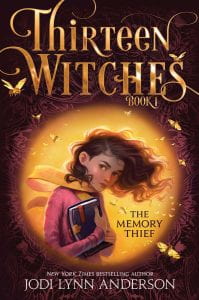 Anderson, Jodi Lynn. The Memory Thief. Thirteen Witches Book 1. Aladdin, 2021. 978-1-481-48021-5. 325 p. $17.99. Grades 4-7.
Rosie finds great comfort in writing fantasy stories with happy endings, to compensate for her less-than-perfect life with a mother who cannot remember she has a daughter. But when Rosie's best friend, Gemma, suggests the girls are getting too old for stories, Rosie, shocked and hurt, burns her writings. Later that night, the ghosts come. When a young boy ghost realizes Rosie and Gemma can see them, he takes it up himself to educate Rosie of her family's heritage. Armed with The Witch-Hunter's Guide to the Universe, Rosie learns of the existence of 13 witches, who steal the good from inside of people. Her mother, the last known witch hunter, was cursed by the Memory Thief. Now that Rosie has triggered her own sight, the witches will be aware of her existence and will come for her. Anderson, author of the ethereal Midnight at the Electric, creates an equally luminous fantasy for middle grade readers. The main characters are fully nuanced, and the evolution of friendship is a major theme in the story. The layering of the magical world over the ordinary world is an element sure to pull in readers, as they cheer for Rosie and Gemma to succeed in holding off the darkness. This is the first book of the series, and the ending will leave readers eagerly awaiting the next volume. The main characters are presumed white.
THOUGHTS: This is a top-notch fantasy with three dimensional characters to whom readers can relate. There should be a wide audience for the book, beyond fantasy readers.
Fantasy (Magical Realism)          Nancy Nadig, Penn Manor SD