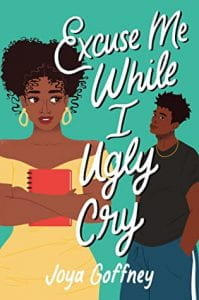 Goffney, Joya. Excuse Me While I Ugly Cry. Harper Teen, 2021. 978-0-006-302479-3. 352 p. 17.99. Grades 9-12.
Quinn, a high school senior, keeps lists. Of EVERYTHING. Boys she'd like to kiss, movies with intense rewatchability, things people assume about her. It's how she copes with life. The notebook in which she keeps her lists is her most treasured possession, and when it goes missing, she panics. Then it gets even worse. Someone posts one of the lists on Instagram, for the whole school to see, and blackmails Quinn into completing her list of fears, or the whole journal will be released. Hot guy Carter, who has decided he doesn't like Quinn because she's an oreo – Black on the outside but white on the inside, was the last person to have the journal; he offers to work with Quinn to complete her list and deduct who is holding the journal hostage. While the romance that ensues between the pair may be predictable, the book is about so much more. Quinn and Carter are two of a handful of Black students at a predominately white private school. Although they share some experiences, Carter is quick to point out that wealthy Quinn has a very different life than he does. The plot examines racial issues and stereotypes from a variety of perspectives, and focuses on the value of true friends, who just might be the people you would least expect. Besides facing her fears, Quinn also has to accept that her beloved grandmother has Alzheimer's disease, and worries that her parents are headed for divorce. All the characters are well developed, and each story arc is satisfyingly wrapped up. This is a superbly well crafted book that is a delight to read.
THOUGHTS:  This will be a huge hit with romance fans, but hand to fans of realistic fiction as well.
Romance          Nancy Nadig, Penn Manor SD