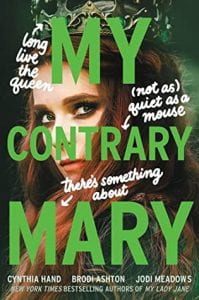 Hand, Cynthia, Brodi Ashton and Jodi Meadows. My Contrary Mary. Harper Teen, 2021. 978-0-062-93004-0. 496 p. $18.99. Grades 8-12. 
For readers who like their historical fiction a bit more on the fiction side, the trio of authors known as the Lady Janies offer their fourth rollicking rewrite of history, this time turning to Renaissance France for felicitous fodder. Mary, Queen of Scots has been engaged to Francis, Dauphin of France since they were tiny tots. They are best friends, and Francis keeps Mary's deepest secret: she is an Eꝺian, a shape shifter with an animal alter ego. In a country ruled by Verities, this is a death sentence. This story returns to the highly enjoyable world of the trio's first book, replacing religious warfare with Eꝺian/Verity strife. While historical events form the basis of the plot, the authors never let facts get in the way of a good story, and certainly not a happy ending. When King Henry suddenly dies, (possibly probably with an assist from Mary's uncles), and Francis is placed on the throne, the maneuvering begins to gain control of France. Ari, the daughter of the court prognosticator, Nostradamus, finds herself thrust into the middle of the messy machinations, as her skill as a potion maker is in demand on all sides. Can Mary save Francis, save France, save Scotland, save her mother, save Eꝺians, and save her marriage? Of course she can! This is history as it ought to have been, and far more fun than anything you were taught in school. All characters are presumed white, but Ari develops a romantic relationship with one of Mary's ladies-in-waiting.
THOUGHTS: This is a delightful, giggle-inducing romp through history, containing just enough facts to send readers to Wikipedia to discover what really happened. A steady stream of asides from the authors adds to the hilarity.
Fantasy (Historical)          Nancy Nadig, Penn Manor SD