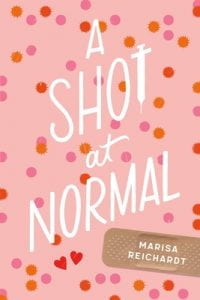 Reichardt, Marisa. A Shot at Normal. Farrar, Straus and Giroux, 2021. 978-0-374-38095-3. 352 p. $17.99. Grades 9-12.
Juniper Jade is the oldest child in a family that grows their own organic foods, homeschools their children, and goes without many of the everyday things others have (plastics, cell phones, and vaccinations). Often passing the local high school, Juniper longs to feel normal, but she respects her family's values and doesn't question them (too much) until she contracts the measles and unknowingly passes the virus to others. Then tragedy strikes, and suddenly, Juniper isn't so sure about her family's lifestyle. With the help of Nico, a friend who may be more than a friend, Juniper decides she's going to be vaccinated. Despite her parent's wishes. She isn't quite prepared for their reaction, though, and Juniper really has to consider how much she's willing to risk to get her vaccines.
THOUGHTS: Readers who are looking for a little more independence from the adults in their lives will connect with Juniper. With the vaccine debate at a pinnacle (though this book is not about COVID), A Shot at Normal deserves a place in high school collections.
Realistic Fiction          Maryalice Bond, South Middleton SD