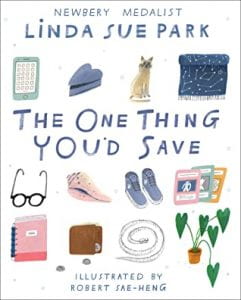 Park, Linda Sue. The One Thing You'd Save. Clarion Books. 978-1-328-51513-1. 65 p. $16.99. Grades 3-6. 
In this novel in verse, a teacher challenges her middle school students to think about the one thing they would save if their home was on fire. Their family and pets are already safe, but she wants to know what one thing inside their home is most important to them. It can be any size, any shape. Some students come up with answers immediately, and others ponder the assignment carefully. From cell phones and favorite books to wallets and trading cards, each student explains the reasoning behind his or her choice. Some students share sentimental stories, such as how they would save a hand-knit sweater from their grandmother or a collar from a pet who passed away. The many different voices reflect an inclusive classroom led by a caring teacher who reminds her students to always protect, affect, and respect one another as they are sharing. In her author's note, Park shares that sijo, an ancient form of Korean poetry, was her inspiration for this book. Classic sijo have three lines of thirteen to seventeen syllables. While the poems in this collection use the sijo structure, many are longer than traditional sijo poems.
THOUGHTS: This novel in verse should spark engaging discussions between middle-grade readers. The question of what to save in a hypothetical emergency is a universal one, and students' answers will be as varied as the ones presented in the book. This could be a valuable book to use during Morning Meetings to generate conversation and build relationships. It will provide insights into what students value most and will lead to discussions about sentimental value versus practical value. Share this title with guidance counselors as well.
Novel in Verse          Anne Bozievich, Southern York County SD