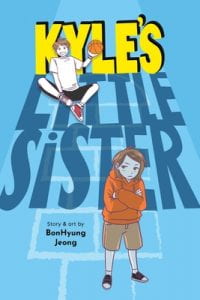 Jeong, BonHyung. Kyle's Little Sister. JY, 2021. 978-1-975-33589-2. $24.00. 207 p. Grades 4-7.
6th grader Grace and 8th grader Kyle just started a new year of middle school. Grace, an avid gamer who often feels awkward in social situations, has always struggled in her role as Kyle's younger sister, since he is one of the most popular and athletic kids at school. Grace's best friends, Amy and Jay, try to help her forget about living in her big brother's shadow by organizing game nights and sleepovers, but soon boy-crazy Amy devises a match-making scheme that breaks up the three girls' friendship in a devastating way. As Grace and her friends struggle to navigate school gossip, popularity contests, and the difficulties of growing up, Kyle begins to reach out to his sister and repair their tumultuous sibling relationship in a way that is realistic and heartwarming. A brief autobiographical sketch at the end of the book also introduces readers to the author/illustrator of the book and to her artistic writing process.
THOUGHTS: This graphic novel is perfect for fans of Reina Telgemar and Svetlana Chmakova.  Middle schoolers, especially kids that are dealing with all the struggles of young adult friendships, will have no difficulty relating to Grace's feelings and eagerly will devour this book to find out if the story's characters find resolutions to their problems.
Graphic Novel          Erin Faulkner, Cumberland Valley SD