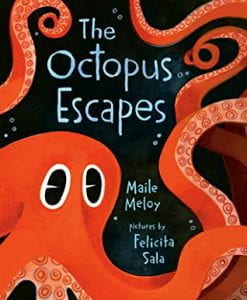 Meloy, Maile. The Octopus Escapes. Putnam, 2021. 978-1-984-81269-8. $17.99. 32 p. Grades K-2.
An octopus is captured from his undersea home and placed in an aquarium to be studied. The octopus soon realizes that he cannot stay in his small glass enclosure and plots his escape.  
THOUGHTS: After watching My Octopus Teacher, I have to admit I'm a bit obsessed with octopus! This sweet little story sends a subtle message about conservation and studying animals in their natural habitats.
Picture Book         Krista Fitzpatrick, Wissahickon Charter School