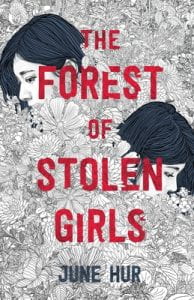 Hur, June. The Forest of Stolen Girls. Feiwel and Friends, 2021. 978-1-250-22958-8. 369 p. $18.99. Grades 9-12.
Min Hwani and her younger sister, Maewol, were raised on the Korean island of Jeju, in the small village of Nowon. In 1421 (five years before the events of The Forest of Stolen Girls), Hwani and her father, a renowned detective, relocated to the mainland while Maewol stayed in Nowon as a shaman's apprentice. During those five years, Detective Min returned to Jeju many times to try and crack the only case he ever failed to solve: the "Forest Incident," in which his own daughters were found nearly frozen to death, near the body – a possible suicide – of a village girl. Hwani has no memory of the incident, and Maewol has only a fleeting recollection of a masked man. Indeed, the forest is a dangerous place for the girls of Nowon: thirteen of them have vanished over the years. And a year ago, Detective Min failed to return from his journey to Jeju; he has been declared dead, though his remains were never found. Now in possession of her father's investigative journal, Min is desperate to locate her father and solve the mystery of his disappearance before she is recalled to the mainland and an arranged marriage. June Hur's expertly crafted blend of clues, suspicions, memories, and suspects builds slowly but surely to a nail-biting boil.
THOUGHTS: The Forest of Stolen Girls is a gripping and deeply immersive historical mystery, depicting a time period and setting that will be new to many readers. 
Historical Fiction          Amy V. Pickett, Ridley SD
Mystery