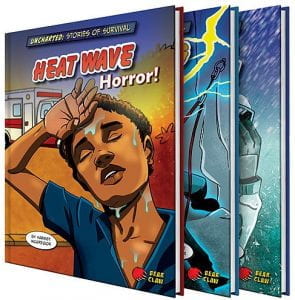 McGregor, Harriet. Uncharted: Stories of Survival. Bearport, 2021. $19.95 ea. $119.70 set of 6. 24 p. Grades 2-5. 
Blown Away by a Blizzard! 978-1-64747-030-2.
Destroyed by a Hurricane! 978-1-64747-031-9.
Flattened by an Earthquake! 978-1-64747-032-6.
Heat Wave Horror! 978-1-64747-033-3.
Lightning Strike Survivor! 978-1-64747-034-0.
Tornado Terror! 978-1-64747-031-9.
These action packed graphic novel stories recount various true stories of individuals who had to survive natural disasters. This reviewer had the opportunity to review Blown Away by a Blizzard!, which recounted the story of Randy Kraxberger, a skier who was trapped in the wilderness of Olympic National Park during a blizzard. Kraxberger had to build a snow cave to survive overnight during the blizzard and stay alert with exercise sessions to ward off hypothermia. Thankfully, in the morning he was rescued by park rangers. At the conclusion of the story, a two-page informational spread (not in graphic novel format) defined a blizzard and explained the science behind how blizzards form. Safety tips were also presented.
THOUGHTS: This action-packed, non-fiction graphic novel series is sure to be a hit. Readers will be kept on the edge of their seats as they wait to see how the individual will survive their situation. A worthwhile purchase for elementary libraries looking to expand their non-fiction graphic novel collections.
Graphic Novel          Elizabeth Henry, Lampeter-Strasburg SD
363 Survival Stories