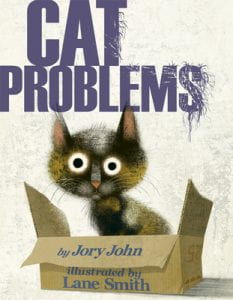 John, Jory. Cat Problems. Random House Studio, 2021. 978-0-593-30213-2. Unpaged. $17.99. PreK-2.
Told from the cat's perspective, this hilarious story chronicles a day in the life of a house cat. This particular cat has a lot of complaints about his living situation: another cat is lying in his spot, he doesn't have any food in his dish, he wants to go outside, and a noisy monster (the vacuum) is chasing him. The list of grievances goes on. Through the window, a squirrel scolds him for being so ungrateful. This doesn't phase the cat, however, and he continues through his day with his amusing, authentic commentary on his surroundings. Despite his attitude, readers will fall in love with the protagonist, who is so unapologetically himself that it's comical.
THOUGHTS: Fans of Penguin Problems (2016) and Giraffe Problems (2018) will love this hilarious new addition to the Animal Problems series. Cat lovers will also find this book endearing. Have children compare and contrast the feline protagonist with their own pets at home, or have them write a story from their pet's perspective.
Picture Book          Julie Ritter, PSLA Member