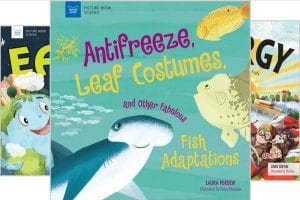 Perdew, Laura. Picture Book Science. Nomad Press, 2021. $8.96 ea. $116.48 set of 13. 29 p. K-3.
The Earth: One-of-a-Kind Planet. 978-1-619-30984-5.
The Moon: Small-but-Mighty Neighbor. 978-1-619-30988-3.
The Stars: A Gazillion Suns. 978-1-619-30988-3.
The Sun: Shining Star of the Solar System. 978-1-619-30992-0.
Endearing alien narrators tell the story of the sun, moon, Earth, and stars. The narrators discuss how they were all formed and how they are all related. Hands-on activities and glossaries are included in the end matter of each book, giving readers even more opportunities for learning. These informative, easy-to-follow narratives of our solar system are a solid addition to any elementary science collection.
THOUGHTS: I personally received and reviewed The Moon: Small-but-Mighty Neighbor, but there are actually four new releases in the Picture Book Science series (listed above). Additionally, there are 9 other previously published books in the series on topics such as energy, animal adaptations, and more. I especially like how these books bring scientific topics down to a level easily understood by elementary schoolers, and I appreciate the extension activities included in the books.
523 Solar System          Julie Ritter, PSLA Member