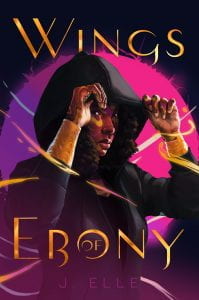 Elle, J. Wings of Ebony. Simon & Schuster, 2021. 978-1534470675. $19.99. 368 p. Grades 9-12.
Rue has lived in Houston with her mother and half sister for her entire life, but when her mother is murdered outside of their apartment, the sisters are separated. Rue is sent to live with her father, who had previously been absent from her life. Not only is she forced to leave Houston, but discovers her father lives on the hidden island of Ghizon, a home for magic wielders. Rue discovers she has these magical abilities also, and although she makes some friends in Ghizon, she leaves on the anniversary of her mother's death, hoping to catch a glimpse of her sister Tasha. However, Rue wasn't supposed to leave the island, and her actions lead to violent consequences. Although Houston and Ghizon are on opposite sides of the world, Rue's two homes collide, and it's up to her to save her neighborhood and Ghizon from the violence and corruption that could destroy both.
THOUGHTS: Rue is a strong, African American female protagonist, whose motto is "make a way out of no way" and puts family above all. Wings of Ebony is the perfect blend of fantasy and contemporary, urban fiction, and I would recommend this title to fans of Angie Thomas, Jason Reynolds, and Tomi Adeyemi. 
Fantasy          Emily Hoffman, Conestoga Valley SD