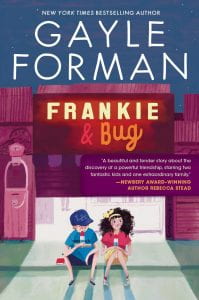 Forman, Gayle. Frankie & Bug. Aladdin, 2021. 978-1-534-48253-1. 288 p. $17.99. Grades 5-8.
Tired of experiencing life in 2021? Jump back to the summer of 1987, before social media, cell phones, and when summer break meant kids had an opportunity to get bored. Bug was all ready to go to the beach every day with her brother, but he was too cool for that now. While she was moping about, her upstairs neighbor informed her that his nephew would be coming to stay for the summer. Though they don't hit it off at first, Frankie and Bug cover a lot of ground as ten and eleven year olds in Venice Beach. From sleuthing to try uncover the midnight marauder to a lesson or two in self identity, Frankie and Bug discover the importance of being true to yourself and family is who you surround yourself with.
THOUGHTS: A fantastic addition to middle level libraries. It's a relief to read a story without the burden of current times, but one that still hits a lot of major themes. The story includes LGBTQ+ and Hispanic representation in an age appropriate manner.
Realistic Fiction          Samantha Hull, Ephrata Area SD