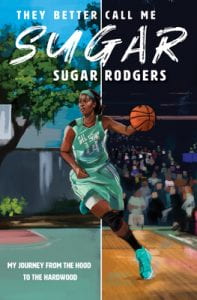 Rodgers, Sugar. They Better Call Me Sugar: My Journey from the Hood to the Hardwood. Black Sheep, 2021. 978-1-617-75929-1. 176 p. $14.95. Grades 7-10.
Sugar Rodgers' journey to the WNBA was not an easy road, to say the least. Rodgers starts her tale with a desire to motivate others and share her story of the struggle to succeed by discussing her childhood in Virginia. Growing up in an over-policed neighborhood, Rodgers' mother supported her involvement in golf and eventually basketball. The loss of her mother, brother, and father, not to mention siblings in jail, and a lot of moving from home to home, didn't cultivate an environment for Rodgers to thrive, but through support and determination and a lot of natural skill, she found her way to the court. Although the writing style is not cohesive, it is easy to read, and many readers will find the vernacular relatable. Despite some confusing timelines, Rodgers' story doesn't start with a basketball in her hand at age two or a family member who helped her break into the sport, and it ends with advice that provides hope to readers who might not see a clear path to their dream. Her childhood and conflicts are ones many readers will be able to identify with and find hope in her motivation. Sugar Rodgers' motivation model is based on being able to take constructive criticism, "someone thinks you are good enough to correct."
THOUGHTS: This book does contain some swearing, including derogatory terms, and potentially triggering life events such as death, jail, and physical abuse. Although this book would best suit middle school readers, some caution should be taken for sensitive readers.
796.323 Basketball          Samantha Hull, Ephrata Area SD