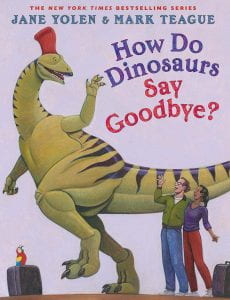 Yolen, Jane and Mark Teague. How Do Dinosaurs Say Goodbye? Scholastic Press, 2021. 978-1-338-36335-7. 40 p. $17.99. PreK-2.
How Do Dinosaurs Say Goodbye is the latest book in the How Do Dinosaurs companion series, and it has all the laughter and lessons of the other books in the series. This one shows how dinosaurs react to either their loved ones leaving, or when they have to leave to go somewhere. It shows how the dinosaurs face their fears of goodbyes and are able to tell the adults in their life how they feel.
THOUGHTS: A great addition to the How Do Dinosaurs series. The illustrations are really well done throughout the book and give the reader a lot to look at while reading. 
Picture Book          Mary McEndree, Lehigh Valley Regional Charter Academy