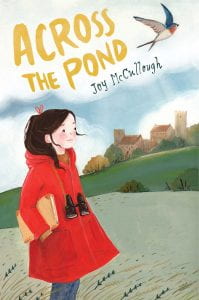 McCullough, Joy.  Across the Pond. Atheneum Books for Young Readers, 2021.  978-5344-7121-4. 276 p. Grades 4-6. $17.99.
Twelve year old Calliope is excited to move from sunny San Diego to not so sunny Scotland. Her parents inherited a castle from Lady Whittington-Spence, who knew her parents as students. Callie sees this move as an opportunity to have a fresh start, after dealing with friend issues back home. Sid, a girl her age living on the estate with her grandfather, the caretaker, does not seem interested in becoming friends. Callie's parents insist that she join a club where she can socialize with others her age. So Callie joins a birdwatching ("twitching") club, but is kicked out when she disagrees with the adult leader. Sid and Callie become tentative friends and go bird watching together. During a twitching competition on the estate, alarming events help both girls realize how to be a true friend while staying true to themselves. The author uses flashback to tell the parallel story of Lady Whittington-Spence as a young war evacuee. Her letters disclose the same feelings of loneliness and interest in birdwatching as Callie. Another flashback toward the end reveals the peer pressure incident in San Diego that shattered Callie's self-esteem. The unique setting, based on McCullough's own experience, takes this narrative of young adolescent struggles to a different level. As the book comes to an end, the author has one more surprise to share.
THOUGHTS: Although the story gets off to a slow start, readers who stick with it will be rewarded. Preteen and young teenagers will be able to relate to the issues of facing peer pressure and developing friendships.  An excellent choice for elementary and middle school collections.
Realistic Fiction          Denise Medwick, Retired, PSLA Member