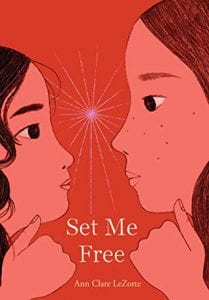 LaZotte, Ann Clare. Set Me Free.  Scholastic Press, 2021. 978-1-338-74249-7  $18.99. 288 p. Grades 4-6.
Mary Lambert, a deaf girl living on Martha's Vineyard in the late 1700's, went through an unimaginable and traumatic ordeal when she was kidnapped years ago to be studied to determine the reason for her deafness. Settled back into her life on the Vineyard, Mary is longing for a more meaningful life. When a friend from years ago sends Mary a letter asking for her assistance helping a young deaf girl to learn to communicate, Mary is hesitant but excited for this new opportunity. However, when Mary arrives on the mainland to teach the girl, she finds that her new charge is imprisoned in the attic and treated horribly! Mary must muster up the courage and support to help free this girl from her circumstances. 
THOUGHTS: For those that loved Show Me a Sign, this is a must purchase. I did not love this installment as much as the first, but the history behind this time period is fascinating. Mary is truly a feminist and has no problem sharing her beliefs. She is a wonderful female literary icon.
Historical Fiction          Krista Fitzpatrick, Abington SD
Mary Lambert, the deaf heroine from the fascinating early 1800's island community of Martha's Vineyard in Show Me A Sign, returns in this historical fiction book that is also rich with mystery and intrigue. Mary is eager to find her way in life and become a teacher, following in the footsteps of her own beloved teacher Mrs. Pye, but she is restless in her home community and feels as though she might have a calling in the wider world. Then, she receives a letter from Nora, a friend who helped her escape captors in her previous adventure, and decides to travel to Boston and help a young deaf girl who needs help learning to communicate through sign language. When she arrives, she finds the girl living in terribly cruel conditions and vows to help her not only learn to communicate, but also to return to her rightful family. With the help of friends both old and new, Mary bravely stands up for the rights of her young charge and demonstrates her conviction that people of all abilities deserve respect, dignity and opportunity in life.
THOUGHTS: This book is a wonderful testament to people with diverse abilities overcoming obstacles, especially those who deal with discrimination based on race, disability, gender, or for any other reason. Fans of Helen Keller's story will also love this tale of a relationship that develops between a brave teacher and her bright but misunderstood student.
Historical Fiction          Erin Faulkner, Cumberland Valley SD