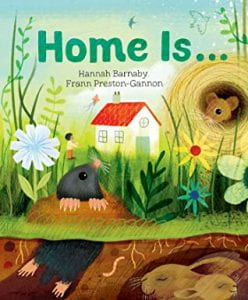 Barnaby, Hannah. Home Is… Beach Lane Books. 2021. 978-1-5344-2176-9. $17.99. Gr. PreK-3.
Home is many things to many different people and creatures. Home can be small or big, above or below, cold or warm. Home can be any place one calls its own. With beginning lyrical text, this picture book shows young readers how home is where a person (or animal) loves to be and how that is different for all creatures.
THOUGHTS: This book contains detailed pictures to share how homes are different for all creatures. With simple text, this book can provide instructors with a simple resource to discuss home, nature, environment, or a variety of topics within a curriculum.
Picture Book          Rachel Burkhouse, Otto-Eldred SD