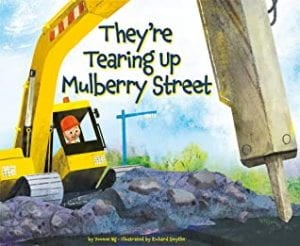 Ng, Yvonne. They're Tearing Up Mulberry Street. Amicus Ink. 2021. 978-1-68152-238-8. $17.99. Grades PreK-3.
One day as a boy is walking home, he sees that construction workers are tearing up Mulberry Street! As the boy looks at the road, the civil engineer explains that the road is bad, pipes underneath the street are old, and the surrounding area needs to be improved. The boy watches each day as the construction continues on Mulberry Street, improving the area around the old street. At the end, the fresh new road is beautiful and delightful, creating a brand new Mulberry Street.
THOUGHTS: This is a great book for not only showcasing machinery for interested readers, but also to explain the process that occurs when a road is being replaced at the ground level! While the text is explained in a manner that is easier for young readers, it is very detailed with the process and machinery that is used. A great construction book!
Picture Book          Rachel Burkhouse, Otto-Eldred SD