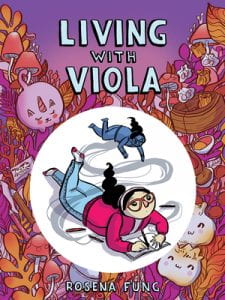 Fung, Rosena. Living with Viola. Annick Press, 2021. 978-1-773-21548-8. 267 p. $22.95. Grades 3-7.
Many people have experienced an occasional internal voice saying: You are weird, bad things happen because of you, no one likes you … for Canadian 6th grader Olivia, this anxiety manifests as a shadowy "twin" named Viola who hovers nearby, pulling Livy out of the moment with reminders that validate her deep self-doubts. Livy worries that her lunch smells strange, that she's "too Chinese" or not Chinese enough, and that she is a disappointment to her family (her parents are immigrants). As Viola gains strength and volume, the negative dialogue seriously affects Livy's confidence and friendships. It also undermines her enjoyment of her hobbies, including drawing, reading, and making dumplings with her mom. Fortunately, with a solid support system, Livy learns that "sometimes, the very strongest and bravest thing you can do is to ask for help." Debut author Rosena Fung depicts Livy's anxiety, depression, and panic attacks through dusky, bruise-purple panels and flowing rivers of negative thoughts. Happier, lighthearted moments and school scenes occur in a warm, autumnal color scheme.
THOUGHTS: This excellent middle grade graphic novel creatively delivers the most important message of all for young readers: You are not alone! Livy always may have anxiety, but she also can thrive. Fans of Guts by Raina Telgemeier will love it!
Graphic Novel          Amy V. Pickett, Ridley SD