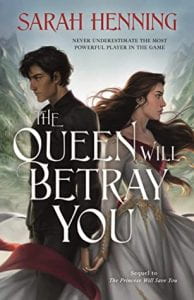 Henning, Sarah. The Queen Will Betray You. Tor Teen, 2021. 978-1-250-23746-0. $17.99. 368 p. Grades 8-12.
Princess Amarande and her true love, Luca, have finally been reunited. However, in order to save the Kingdoms, they must part. Luca, no mere stable boy anymore, must fulfill his role and lead a rebellion against the tyrant war lord. Meanwhile, Amarande returns to her kingdom to find that her mother, the runaway queen, has taken control through her brother, the newly crowned King Ferdinand. Desperate, Amarande unwillingly accepts the help of her enemy, Prince Tallifer, in order to escape her mother and defy the queen's plotting for control over the kingdoms. Her love for Luca and for her people motivate her to keep going, even when all seems lost and betrayal lurks around every corner.
THOUGHTS: The Queen will betray you, but which queen? This was an immensely enjoyable and action packed follow up to The Princess Will Save You, loosely based upon The Princess Bride, and the story does not end here! The cliff hanger will leave readers impatiently waiting for the release of The King Will Kill You to find out the fate of the Kingdoms of Sand and Sky and if true love really does prevail.
Fantasy          Emily Hoffman, Conestoga Valley SD