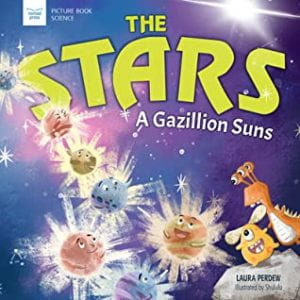 Perdew, Laura. The Stars: A Gazillion Suns (Picture Book Science). Nomad Press, 2021. 29 p. 978-1-619-30992-0. $9.95. Grades K-3.
This nonfiction picture book introduces the reader to the basic principles about the galaxy and the stars. The book goes over information about the sun in our solar system, how stars are created, why they twinkle, as well as how they end. Throughout the book, there are two extraterrestrial commentators who have silly commentary to the reader, and at the end of the book there is an activity for the reader to complete related to the constellations. There is also a glossary in the back of the book; however, there is no table of contents.
THOUGHTS: This is a great introduction to space and the constellations for a young reader. The addition of the two extraterrestrial commentators is a great choice by the author, and the illustrations add to the charm of the whole book. Highly recommended for an elementary collection. 
523.8 Constellations          Mary McEndree, Lehigh Valley Regional Charter Academy